By Premier Martial Arts in Fort Wayne, IN
Most people send their children or join themselves in a karate class so as to facilitate learning of self-defense techniques. Regardless of age, this is the major reason that people are drawn towards karate. Everyone likes to feel safe as it can also give you a feeling of empowerment. The confidence that comes along with learning how to be able
to defend yourself is a great boost for your self-esteem and assurance. Bullying at school is no new concept and however advanced schooling systems may have become, there is always room for learning how to stand up for yourself and be confident.
Bullying is not only prevalent in schoolyards but also at the workplace. Verbal and physical abuse can be just as traumatizing in a professional setting. The self-defense techniques that you learn in martial arts class can help protect you from bullies and abusers, whether they are your colleagues or bosses. Martial arts  training can help you keep your cool in high-pressure situations and react with a clear head. There is no need to be paranoid, but martial arts training gives you the peace of mind that comes with knowing that you have some self-defense skills. You will feel more in control of any situation in which someone is threatening you
How does karate make you feel safe?
Karate is a self-defense tool that is always available at your disposal. Students build up self-defense techniques that help protect against the most common ways of being assaulted. They learn to block slaps, block punches to any part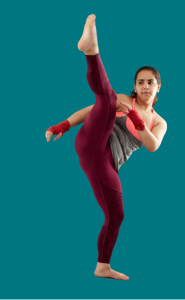 of the body, block kicks to the groin and disengage themselves from grabs or chokes.
Students at Premier Martial Arts train regularly in order to not only build up skills of defending themselves from a physical attack but also to develop their confidence, self-esteem, fitness, strength, agility, sharpness and focus. Karate is not only meant to teach you how to fight, it also imbibes in students the importance of respect, courtesy, self-control, self-restraint and discipline. This holistic development, both physically and mentally, is the best remedy for a student to feel safe.
Martial arts classes provide a sense of safety and security to students. According to the National Institute of Justice, martial arts can help an individual defend themselves against physical attacks. Train regularly in order to not only build up skills of defending yourself, but to also increase
your physical fitness, strength and agility. This will help you feel safe in any situation. Martial arts are a great way to gain self-defense skills and feel safe when out and about.
Parents leave their children in safe hands
The instructors at Premier Martial Arts are well-trained and experts at helping their students to grow and develop through learning karate. As a parent, you can be left assured that your child is in the safest hands. All training sessions are watched over and supervised by instructors to ensure quality training.
Please visit PMAFW.com for information about our martial arts schools closest to you in Fort Wayne!
Premier Martial Arts has been in business for more than 20 years, and since our founding in 1998 we have helped thousands of students of all ages realize their full potential. Premier Martial Arts delivers a best-in-class martial arts experience that helps our students develop the personal skills that are necessary to build a successful life. Our mastery of teaching martial arts over the past two decades is evident in our structured and thorough curriculum, which is standardized across our 100+ locations across the United States, Canada and England.
Our curriculum focuses on character development far beyond the importance of self-defense. We teach our young students how to respect their elders, how to be accountable, how to focus and how to stay in shape in a fun and exciting atmosphere. We empower our adult students with the self-confidence to overcome anxieties and trauma, in an environment that fosters inclusion and social belonging.
Premier Martial Arts Fort Wayne founded in 2015 by 6th Degree Black Belt and Master Instructor Ron Kuhn. Master Kuhn had a distinguished management & engineering career working for such companies as Verizon, NIPSCO, Frontier Communications and Mediacom. In 2019 he made the decision to operate his Martial Arts School fulltime which has always been his lifelong dream. That one location has grown to three in the City of Fort Wayne.
Master Ron Kuhn is married to his wife Anita (retired Special Needs Teacher) of 27 years. They have three wonderful daughters, Jordan, Ally and Katie. Jordan is a nurse who lives in Indianapolis. Ally has a computer science and business background and works with her dad at Premier Martial Arts. Katie is Chemical Engineering graduate and works in the pharmaceutical industry in Indianapolis.
Premier Martial Arts of Fort Wayne operates three locations:
North – 10240 Coldwater Road, Fort Wayne, IN 46825 (Coldwater & DuPont)
East – 10154 Maysville Road, Fort Wayne, IN 46835 (Chapel Hill Area)
Southwest – 9906 Illinois Road Fort Wayne, IN 46804 (Scott & Illinois Road)
260-217-6064
Also check us out on:
https://www.facebook.com/pmaftwaynenorth
https://www.facebook.com/premiermartialartssouthwest
https://www.facebook.com/pmaftwayneeast